Soft & Comfy Is The Way To Go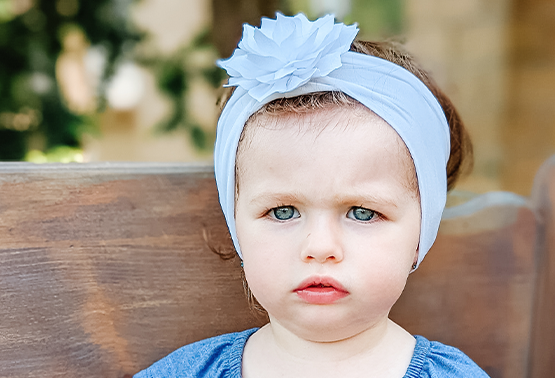 We all need a little help keeping those little hairs out of our faces while washing and cleansing our skin at night. Or simply pushing our bangs out of the way for one day, wear a different hairstyle for one day. Headbands are the best way to achieve this and many more! Luckily, Elie's Bows has a large selection to choose from. Whether your shipping for your children or yourself, you will have a great time browsing our website! 
Arizona Headband 
Mommies often look for a way to dress up their baby girl with soft and safe hair accessories. But let's face it, not all babies are born with a full head of hair! The Arizona Headband is the solution! Part of the soft headbands family, this accessory is made from the soft and strechy material to ensure that baby's head wont get compressed. It shows a large bow on top to add even more cuteness! The bow is simply a knot you can do and redo as your baby grows to play with the size of the headband. We recommend it for newborns to 18 months, but some older children with smaller heads can still wear them. They come in a multitude of colours and prints. 
Zoe Headband
One of my personal favourites is the Zoe headband. The Zoe headbands are part of the soft headband family. With so many colours and prints to choose from, often in sync with the season, it is my favorite hair accessories for lazy days, tired days, sporty days, bad hair days and every other days in between. It also made me rediscover my hair and appreciate how to wear it loosely. They are very soft, comfortable, sit well on the head and don't feel tight. A must have item for older kids and mommy!
Bloom & Tiana Headbands
Another great accessory for baby and toddler! The Bloom headband has a huge flower sitting on a soft headband. It comes in many colours so Mommy can easily match any outfit baby wears. The Tiana Headband also has flowers on its soft band, also making it the cutest baby accessory. On both headbands, the flower(s) and band are colour coordinated. 
Petals, pearls and flowers Headband 
On a classy note, these soft headbands have feminine details like pearls and flowers petals. It will adorned any hairstyle. Also, for young children, they are perfect for special occasions! 
Amira Headband 
With a more casual wear, The Amira Headband is made from a stretchy lace material, making it fun and adorable! Available in over a dozen different colours, it will make great gifts for your little ones! 
Mia & Gioia 
With three colour options, the Mia & Gioia headbands are adorned with a large chiffon bow. They are so classy and sweet and they will turn any little girl into a fashionista! 
Stefania Headband
Slightly on the larger scale, this soft headband is specifically created for adults. Available in three colours, they are versatile and will help ladies style their hair for any day! 
With so many options, the soft headbands are the one hair accessory that you must own! It will provide comfort and style to you and your mini. Elie's Bows provides a immense amount of choices for every one in your family! 
Stephanie